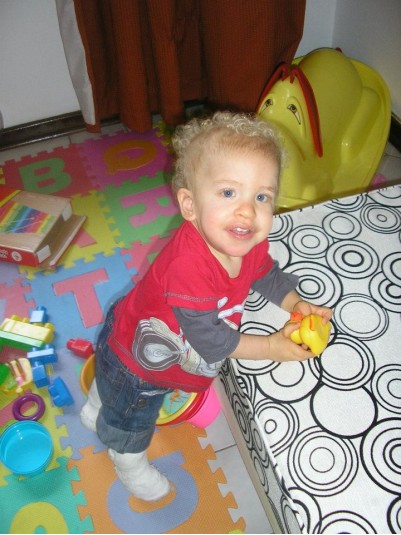 "Aidan" means ardent (enthusiastic/passionate) or in Gaelic "Little Fire"… and at age 5 he has already lived up to his name. His enthusiasm for life is unparalleled. On September 17, 2009 Aidan was nearly lost and had to be delivered via emergency C-section, but this little fire had other plans and now at age 5 he has developed into a loving, social, funny little boy. He has a sense of humor that makes his family and friends laugh on a daily basis. He tries to attract the attention of complete strangers to say hello to them. His smile is contagious and his laugh irresistible.
Aidan was diagnosed in March of 2011 with a very rare genetic disorder called Costello Syndrome.  Costello Syndrome is a disorder that affects many parts of the body and is characterized by delayed development and intellectual disability, loose folds of skin (which are especially noticeable on the hands and feet), unusually flexible joints, and distinctive facial features including a large mouth. Because it is so rare (he is the 2nd diagnosis in South Africa and only 200 – 300 people have it world-wide), not much is known about it, and management of the condition is based on dealing with the symptoms as they arise, and using a pro-active approach in early detection of potential problems.
Some of the major characteristics that Aidan has had have been severe post natal feeding difficulties (at age 4 he still needs his food to be pureed and he has to be fed with a bottle), developmental delays and delayed motor skills. His hands and feet have got very tight tendons that are treated by botox injections and plaster on his feet (what he calls his "Fancy Boots"). After being told by his orthopedic surgeon that he would not be able to walk with his plaster on, Aidan surprised everyone by immediately walking once he had them on.
His physiotherapist is astounded that Aidan has been able to walk with his crooked feet at all. (The fancy boots haven't worked so alternatives needed to be investigated with a high probability of operation). He had bi-lateral hernia, and has already undergone 3 lots of general anesthetic.
To give Aidan the best chance in life – Aidan and his mother has been encouraged to do Occupational Therapy, Physio Therapy, and Speech Therapy at least once a week to help him develop to his full potential.  Over the next number of years, Aidan will need to do abdominal scans every 3 months to screen for cancerous tumors in his tummy, and heart scans as Aidan has a thickened left ventrical wall.
Through all this Aidan and his mother stay positive and take life a day at a time. We encourage the Letters Project community to send Aidan and his mom and letter of support to let them know we are thinking about them and wishing them the very best.