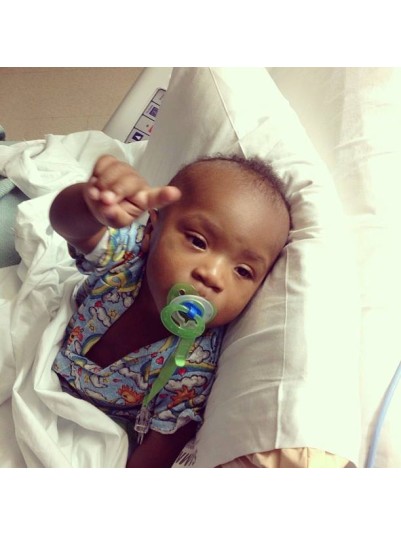 Kingston is a lively 2-year old who loves sports cars, DC Comics and music. He lives in Texas with his brother, three sisters and parents. About two years ago, when Kingston was just 8 months old he was diagnosed with a rare form of eye cancer that affects retina cells called Bilateral Retinoblastoma. Upon diagnosis Kingston and his family relocated to Texas so that Kingston could start chemotherapy. The tumors that had formed in Kingston's eyes decreased in size, however Kingston still has to go in for monthly surgery and check-ups. Retinoblastoma can affect your hearing, speech and eyesight so every day his mother coordinates Kingston's appointments for his hearing aids, speech therapy and "port" flushes—portacath is a small medical appliance that is installed beneath the skin. A catheter connects the port to a vein so that drugs can be injected and blood samples can be drawn. Despite these challenges, Kingston is a happy boy that brings great joy to his family.
Kingston's family is thankful to God, and the doctors who have helped Kingston through the last two difficult years. They would like to not only like to inspire and encourage people going through similar experiences, but would like to use the Letters Project to help get the word out about Retinoblastoma.
Information on Retinoblastoma:
Retinoblastoma accounts for approximately three-percent of all childhood cancers. The tumors start in the person's retina, which is the light-sensitive layer of the person's eye that enables them to see. Tumors that are present in one eye only are referred to as, 'unilateral retinoblastoma,' and when they are present in both of the person's eyes they are referred to as, 'bilateral retinoblastoma.' Nearly sixty-percent of the people who experience retinoblastoma have unilateral retinoblastoma, with the remainder experiencing bilateral retinoblastoma. Around ninety-percent of people with retinoblastoma do not have a family history of the disease; the remaining people who are newly diagnosed do have family members with retinoblastoma.
Common signs of retinoblastoma include what's called a "cat's eye" – white glow or glint in the pupil of one or both of the person's eyes in dim lighting, a white pupil in a color photograph, or crossed or misaligned eyes. If you notice a white glow in any of your children's pictures, contact a pediatrician or an ophthalmologist promptly and have their eyes examined.